GUITAR FLAMBE!
The brand new album by guitarist/songwriter Jason Davis! This twelve-song collection is chock-full of arena rock riffs, catchy melodies, moments of lyrical humor, and tons of guitar acrobatics. Featuring the Texas blues revelation "(The Whole World's Done Me Wrong, But) My Guitar's Done Me Right", a tribute to the glorious music of "1973", & the six-string rollercoaster ride of "Ok...Who Let The Rhino In?"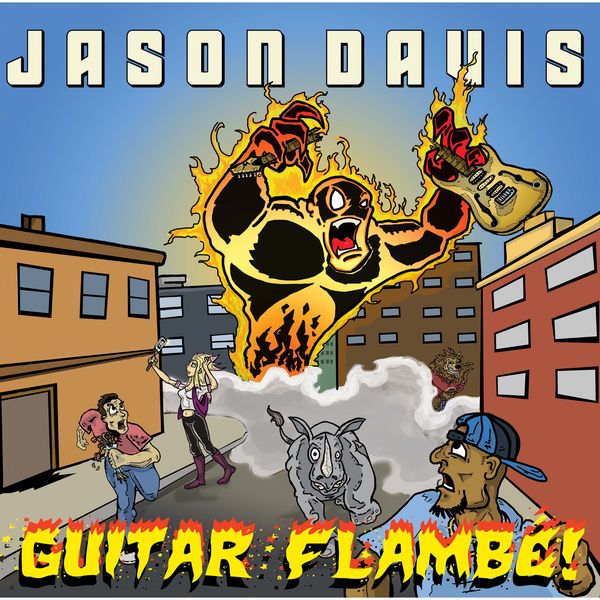 "I just wanted to unwrinkle my forehead and play fun music again."  
Davis' new album, Guitar Flambé!, finds him doing just that: arena rock riffs and themes concerning romantic mishaps and blunders ("Love & Misery"), celebrating the music of his youth ("1973"), and odd-toed ungulates ("Ok…Who Let the Rhino In?"). While Davis tips his hat to the songwriters and artists that have influenced him over the years, the music is never derivative, always injected with his idiosyncratic spin. His acrobatic guitar skills are ever-present but in a more playful and concise manner. He even throws in a Kelly Clarkson cover to boot!
Recorded primarily during the events of 2020-21, Guitar Flambé! finds Davis handling much of the instrumental and vocal duties as well as production. The album features excellent bass work by both Brian Premo and Chad Smith on select tracks as well as Jordan Sommer (Jordy the Blond) of Aticus Fitch in a dueling guitar solo battle with Jason on the aptly titled "(The Whole World's Done Me Wrong, But) My Guitar's Done Me Right".
Reflecting upon the completion of Guitar Flambé!, Davis comments, "An artist always wants their audience to appreciate what they're doing, but you have to love it first and make yourself happy. Listening back to these tracks puts a smile on my face."