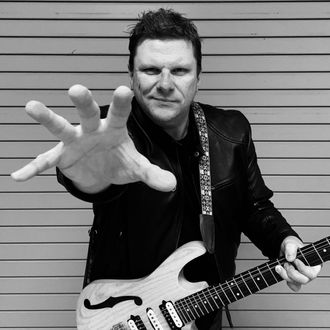 JASON DAVIS
GUITARIST/SONGWRITER
"Proof positive that guitar rock is alive and well. Jason is a great guitar player who knows how to serve the song and still hang ten." 
- Reeves Gabrels, (David Bowie, The Cure) 
"Jason Davis has that rare quality of musicianship with pop sensibility. His tunes are well crafted - melodic and hooky without being too predictable - and he's not afraid to throw in a face-melting solo for good measure! An intriguing musician for sure." 
- Joe Naylor, founder of Railhammer Pickups
"Jason's new record kills! It's chock full of excellent guitar playing that he uses to emphasize his songwriting skills, not just carry them." 
- Ken Haas, CEO of Reverend Guitars
bio
"I just wanted to unwrinkle my forehead and play fun music again." 
Reflecting on the past, guitarist/songwriter Jason Davis would probably categorize much of his previous music as being on the serious side of rock. "I somehow got it in my head that I had to play music that, at times, challenged the listener or at least tried to come across as more cerebral and different. I thought by doing so, I would be considered a 'legit' musician and get the stamp of approval from my peers. It was still rock…just not something that you'd play at backyard barbecues or your favorite sporting event. 
"In band rehearsals," he continues, "the guys and I would joke around, talk in accents, and make 'Spinal Tap' references. Then we'd play songs with serious looks on our faces and then go back to laughing when we were done. I started to ask myself, 'Why am I doing this?' I decided that I just wanted to unwrinkle my forehead and play fun music again." 
Davis' new album, Guitar Flambé!, finds him doing just that. In place of dramatic textures and melancholy lyrics exist arena rock riffs and themes concerning romantic mishaps and blunders ("Love & Misery"), the electric power of rock 'n roll ("Live Wire Swing"), and odd-toed ungulates ("Ok…Who Let the Rhino In?"). While Davis tips his hat to the songwriters and artists that have influenced him over the years, the music is never derivative, always injected with his idiosyncratic spin on what some may dub a "classic rock" vibe. His acrobatic guitar skills are ever-present but in a more playful and concise manner. He even throws in a Kelly Clarkson cover to boot! 
Davis has been fortunate as an independent artist in today's musical climate. Many of his songs have appeared in television and cable programs such as "Saturday Night Live", "WWE Raw", Dancing with the Stars", and "The Tonight Show". He has performed and toured with artists as diverse as Reeves Gabrels (The Cure, David Bowie), MC Lyte, Clay Aiken, and Cee-Lo Green. Davis has also had artist relationships with Reverend Guitars, Railhammer Pickups, Supro/Pigtronix, Source Audio, and others. Yet, he had been musically dormant for a number of years, with his last release being the 2014 live album Live + Loud on Lincoln Avenue. One of the unfortunate contributing factors was the early development of osteoarthritis in his fingers, hands, and wrists. The prognosis wasn't good. "I went to my doctor and two different specialists and was told that there was nothing they could do for me. One even said to get my guitar playing in now because I might not be able to in ten years." His playing time reduced due to pain but also because of discouragement. "It hurt to play, so I wouldn't. When I did, I felt like I couldn't play...because I wasn't. So it was a vicious circle for a number of years." 
Tired of pain and frustration, he began making changes. "I spent about two years relearning how to play the guitar: holding it differently and analyzing my technique. I realized that I played really tight and hard. So I started relaxing and using more efficient motion. I reduced my string gauge and started using thinner picks." He also began taking lessons through Paul Gilbert's online school. "I reinvented my entire style and technique. People may not notice, but I can hear and certainly feel it." These changes helped to lead Davis back to a place where he could play pain free and start working on music again. 
Recorded primarily during the events of 2020-21, Guitar Flambé! finds Davis handling much of the instrumental and vocal duties as well as production. "Lyrically, the album falls into two general categories: relationships and a love for music", Davis explains. "It's all pretty positive. I really have a great life, so there's no point in writing about murking my way through the doldrums." The only song where the lyrics color outside of the lines is "Complain", a tongue-in-cheek mashup of early-80s metal and commentary on the grumblings of today's society. "With all the goings-on in the world, why do we find ourselves getting so upset about having to wait in the drive-through line? This is my cantankerous side sneaking out. That's what happens with age (laughs)." Davis also salutes his generation with the song "1973". "It's a celebration of the incredible things that occurred the year I was born...mostly the bands and recordings released that year. I threw an Archie Bunker reference in just because I remember my great-grandfather watching 'All In The Family' when I was a wee lad, and so I felt the need to acknowledge it. A secret talent of mine is my mean imitation of Edith." 
After years of reflection, discovery, and overcoming challenges, Guitar Flambé! is the result. It's one that refocused Davis on the music that influenced him and that he still loves. "An artist always wants their audience to appreciate what they're doing, but you have to love it first and make yourself happy. Listening back to these tracks puts a smile on my face."
latest music
GUITAR FLAMBE! - the brand new album by guitarist/songwriter Jason Davis! This twelve-song collection is chock-full of arena rock riffs, catchy melodies, moments of lyrical humor, and tons of guitar acrobatics. Featuring the Texas blues revelation "(The Whole World's Done Me Wrong, But) My Guitar's Done Me Right", a tribute to the glorious music of "1973", & the six-string rollercoaster ride of "Ok...Who Let The Rhino In?"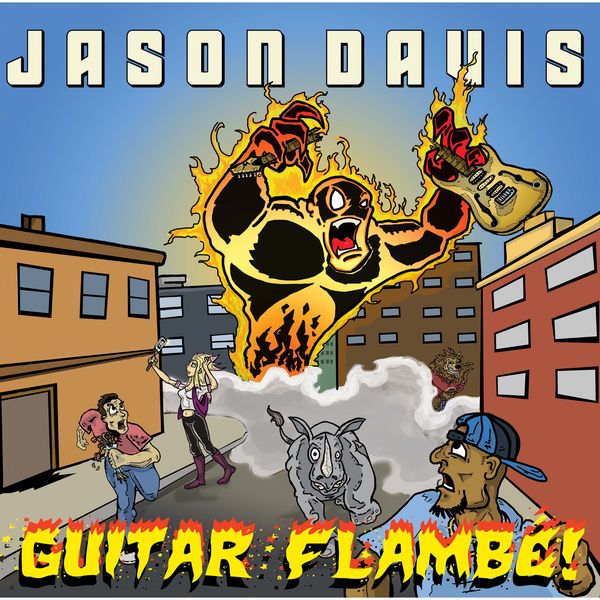 sync placement
"Access Hollywood" 
"America's Most Wanted" 
"Cops" 
"Dancing With The Stars" 
"Saturday Night Live"
"The Tonight Show" 
"NFL Total Access" 
"True Hollywood Stories" 
"Under Fire" 
"WWE Raw"
shows & tours
NBA Rhythm N' Rims Tour (national) 
World Music Festival, Chicago IL 
Universal/CityWalk, Hollywood CA 
Beale Street Music Festival, Memphis TN
National Association of Broadcasters Convention, Las Vegas NV 
Stage guitarist for Clay Aiken, Dallas TX 
Summer NAMM Reverend Guitars showcase, Nashville, TN